Jacoby Shaddix "understands the darkness" Chester Bennington faced.

Commenting on Chester Bennington during a recent interview, Papa Roach's Jacoby Shaddix says he understands the demons that the Linkin Park frontman struggled with.

"I knew him quite well," Shaddix tells Radio Chatter during the interview (transcription via Blabbermouth). "I went out to dinner with him about a month before all that went down. He just had great advice to give me and was just super friendly and I just thought everything was cool. But the reality is I've struggled with a lot of the same demons he's struggled with and I understand the darkness."

The singer says his heart goes out to anyone that's struggling with mental health themselves or has someone in their lives that is "in that dark place."

"Sometimes it just feels like everything is just way too heavy and you just can't handle life," he comments. "And it's tough sometimes. I'm just glad I'm still breathing, 'cause that really just hit me hard. It made me go, 'Ugh. That's just too heavy.' We lost some good ones in this last year, for real."

Jacoby Shaddix "understands the darkness" Chester Bennington...
Powered by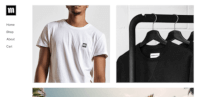 Create your own unique website with customizable templates.